Influx of sick sea lions swamps Morro Bay rescue center
Marine Mammal Center facility is facing an unprecedented number of starving sick sea lions and pups because of disruptions in the ocean food chain
One of many lethargic sick sea lions rests in a cage at the Marine Mammal Center rescue facility in Morro Bay.
Named Domino by the volunteers at the facility, the male sea lion was brought in Thursday morning in a state of severe dehydration and emaciation. Its shoulder blades and other bones are easily visible beneath its matted fur, and its heart beat shows as a rhythmic bump on its chest.
Although Domino is estimated to be 9 months old, he is only a few kilograms heavier than the typical birth weight for a sea lion. He was rescued from the Morro Bay wharf near the Great American Fish Co. restaurant.
Domino is one of more than 1,200 sick sea lions that have been rescued off of beaches in California this year in what marine mammal officials are calling an unprecedented crisis for the charismatic and intelligent seals.
The Marine Mammal Center, which covers the coastline from the Central Coast to the Oregon border, has rescued 723 sick sea lions this year. Fifty-nine were rescued by this time last year, said Aubrey St. Marie, center site manager.
The triage center in Morro Bay has rescued 132 sick sea lions from San Luis Obispo County beaches since the first of the year. During that same period, 133 northern elephant seals and harbor seals have also been rescued.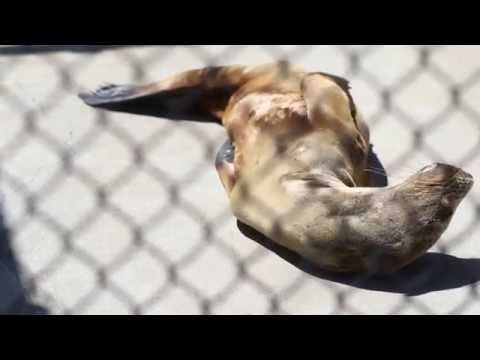 "It's been a very intense couple of months for us," St. Marie said. "We've been getting from one to 10 animals a day in here."
The crisis is caused by profound changes in the marine food chain off of California.
Normally, strong winds from the north would cause upwellings of cold, nutrient-rich water that is the basis of the ocean food chain. This has not happened, and the fish the sea lions rely on have moved elsewhere to feed.
A mild El Niño winter and climate changes are also considered contributing factors, resulting in ocean temperatures that are two to five degrees warmer than normal for this time of year. This means that sea lion mothers must spend much more time at sea looking for food, St. Marie said.
This has caused the pups, which are born in the Channel Islands, to become malnourished and eventually strike out on their own months earlier than they normally would be weaned. Locally, sea lions have been rescued from San Simeon to the Oceano Dunes.
Normally, the bulk of the animals the center would receive at this time of the year are elephant seals and harbor seals, with a spike in sea lion numbers in May and June when they are normally weaned. The fact that half of its rescues this year have been sick sea lions shows the severity of the problem, St. Marie said.
Warmer ocean temperatures could persist through the summer to the end of the year, so marine mammal veterinarians are not sure how long the sea lion crisis will last. Sea lions are sensitive to their environments and are often considered sentinel species, animals that can alert scientists to major, long-term changes in the environment.
"What's scary is that we don't know when this will end," said Dr. Shawn Johnson, director of veterinary science at the Marine Mammal Center. "This could be the new normal — a changed environment that we're dealing with now."
Meanwhile, Domino flops over to a water trough and takes a drink. This is highly unusual for a sea lion.
"Sea lions normally get their water from the food they eat, so the fact that he is drinking water shows how dehydrated he is," St. Marie explained.
The facility in Morro Bay is often called a triage center because the animals only stay there a day or two before they are shipped north to the main rehabilitation facility in Sausalito. A starving pup will typically stay at the rehab center for a couple of months before it is released back into the ocean.
While at the Morro Bay facility, volunteers and veterinarians concentrate on rehydrating the seals and restoring their electrolytes to stabilize them for the trip north. Sick seals can also be treated with antibiotics for pneumonia and other ailments.
On Thursday afternoon, a Marine Mammal Center pickup arrived at the triage center. In the back was an elephant seal pup. It was rescued in Shell Beach and showed signs of malnutrition.
After the pup was unloaded into a cage, the volunteers set about selecting a name for him. This can be tougher than it might seem because a name can only be reused once a decade.
The crew had just finished a pizza lunch so the name Pizza was suggested. A database containing tens of thousands of potential names was checked, and the name was found to be available, so he was dubbed Pizza on the spot.
Selecting a name for arriving animals is typical of the amazing diversity of duties the facility's 30 volunteers perform. They work at all hours, day and night, and do everything from rescuing, feeding and transporting the seals.
"The volunteers are amazing; they really are," St. Marie said.
How to help
It takes a lot of money to run the Marine Mammal Center. Purchases range from syringes to 1,200 pounds of herring a day to feed the seals. The general public can help by making a donation.
Anyone interested in donating or volunteering should go to the website.